Amazon's Best Selling Graphics Cards / GPUs for Gaming PC.
In order to beat other video cards and reach the top positions in the best seller list, price is most important factor  since most computer builders  most of the times are on budget and stay on constant hunt to find discounted PC hardware that delivers the best dollar to performance value. For basic to moderate graphic rendering needs consumers prefer to rely on video rendering power coming directly from their main processor such as Intel HD graphics technology. A separate graphics card installation is require for high end visual needs where the attached hardware works with full dedication on handling all the graphics related tasks so your main processor does not need to handle this additional task and can concentrate on other computing assignments. If you are getting a dedicated graphics card installed in your PC assembly most probably it will be for gaming purpose, if not that will be work computer that needs to handle heavy video related programs such as 3d platform Maya, 3d Studio Max, or video editing platforms, AutoCAD, Photoshop image editing, Illustrator for print media work and the list goes on. Selecting from this best selling graphics cards list will ensure you get the best bang for buck for building your budget gaming or workstation PC.
EVGA VS Other Graphics Card Makers in Best Seller Race
Based on the list of bestseller graphics cards on amazon website it clearly indicates how EVGA manufactured GPUs are making the highest sales on internet because out of these 10 best selling VGA six of them are made by EVGA company. However there is one card from MSI, Gigabyte, XFX and Asus. MSI managed to score only one computer graphics card in the top 10 list but it has reached the first position with its GTX 970. Most of the EVGA card sales are moving in upward direction as the best seller collection indicates that just one EVGA card has downgraded in selling position while rest of the five cards have increased sales patterns.
EVGA undoubtedly manufactures the most wished for and massively sold computer GPUs
List of 10 Best Selling Graphics Cards on Amazon
There are tons of GPUs available in the market produced by different manufacturers but in order to stay on the safe side and not losing your hard earned money in a less value video card, it is wiser decision to select from this collection of top 10 graphics cards that large number of consumes bought with confidence.
* In order to get full details (images, rating and price information) of each graphics card scroll down to bottom of the page.
1) MSI GTX 970 Gaming 4Gigs Graphics Card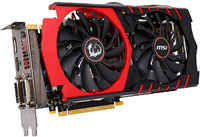 Nvidia Geforce GTX 970 is built for gaming PC that gives flawless and crystal clear game visuals for the latest PC games. This is an excellent MSI video card with 4 GB dynamic memory which is built to run in a quiet manner  with no coil whine noise and generates loads of graphics power to play sophisticated games with ease. The maxwell chip can easily be overclocked to give even more power. Twin Frozr V based cooling system is newly introduced that works via nickel-plated copper in s and u shaped pipes.
2) EVGA GTX 980 Superclocked ACX 2.0 4GB GPU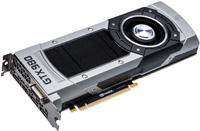 Nvidia Maxwell architecture based Geforce GTX 980 is a super overclockable & SLI-ready GPU chip from EVGA that delivers unmatched gaming visual especially built to tackle the most complex lighting challenges. Due to its powerful 4GB of GDDR5 dynamic video storage capacity it offers one of the best single GPU solution for handle your gaming needs. ACX 2.0 is a revolutionary cooling technology has competitive edge over ACX 1.0 in: 26% better cooler, 36% Quieter, 250% less,  power, 400% longer life. The new design offers less friction between parts.
3) EVGA Geforce 8400 1GB VGA card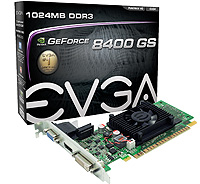 The coolest 1 GB video card available for low-end beginner gamers building new or upgrading old computer for playing video games. With a massive 850+ customer reviews and close to 500 answered questions makes it obvious how well it is accepted by online customers. The ultra low price of just $33.99 makes it an ideal game hardware for new system assembly. The card is not much fancy in looks and no dedicated cooling jacket is installed. However a simple fan does the trick in efficient manner. Overall the graphics processor works great for playing basic to mid level PC games at good settings.
4) EVGA GeForce GTX 750Ti 2GB Card 02G-P4-3751-KR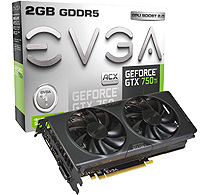 GTX 750Ti goes well with massively played titles in the market with a full high definition requirements of 1080p resolution, whereas 2 gigabyte memory makes sure the visual rendered on your game display are life like realistic and crystal clear then look no further. Ideal for running latest heavy games at high as well as ultra settings without facing any frame rate issues. Overall, it will be able to run almost all recent games at full settings without a noticeable lag. This GTX Card runs on ACX cooler technology with the help of twin fans to give a steady low temperature. Ensuring a quiet and smooth operation during a heavy game session. Targeted to deliver a steady full high definition 1080p game visuals.
5) EVGA GeForce GTX 750Ti Two Gigs 02G-P4-3753-KR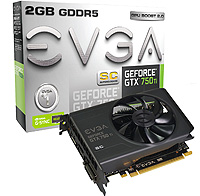 One reason for its success is that it is first card from Nvidia that has embedded GeForce 8 series Maxwell chip and secondly due to low on heat generation and power consumption makes a good package for gamers. Absolutely no driver issues so it saves you from unwanted troubleshooting. Gives an enjoyable visual for playing Battlefield 4 on ultra settings. This is the second 750Ti card by EVGA but in smaller size and single fan design. Suitable for gamers who does not have huge space available in their computer case but not willing to compromise performance. Enjoy a quieter, fast and crystal clear gaming operation with this GTX 750Ti video adapter.
6) EVGA GTX 760 SC ACX Cooler 2GB GDDR5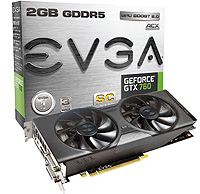 Geforce GTX 760 is another 2GB card from EVGA which is built for overclock-able video gaming PC. Built to deliver realistic game visuals on high and ultra settings with at least 40 fps on full HD output. In a nutshell GTX760 SC is first choice recommended visual rendering card for any gaming enthusiast out there  looking for a reliable video game card. A highly efficient visual processor at stunning detail on 1080p and playable detail at 1440p. GTX 760 is factory overclocked pr superclocked graphics adapter to harness more juice out of this nice piece of game hardware. Whereas ACX technology is used to provide a reliable cooling during heavy game seasons.
7) EVGA GTX 970 SC ACX FTW 4GB Video Card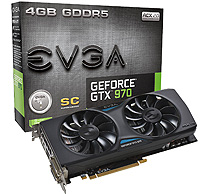 The best value graphics adapter at unbeatable price, a single GPU set-up will ensure a steady 60 frames per second for a fully high definition 1080p graphics rendering which is tested for Far Cry 3, Shadows of Mordor, Metro: Last Light, Call of Duty. Don't wana get bothered by PC noise then go for GTX super-clocked graphics card as it has absolutely zero noise of fan and coil whine. The innovative ACX 2.0 cooler is built to ensure a steady temperature on boost from factory overclocking. Processing game visual data of modern warfare games such as Battlefield 4 at high settings will be piece of cake for this next generation GPU. Enjoy flawless game sessions without worrying about system temperature and visual processing.
8) Gigabyte GeForce GTX 970 G1 Gaming 4GB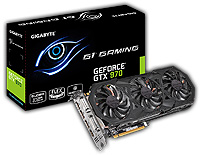 Nvidia Geforce GTX 970 is an efficiently integrated GDDR5 based 4GB memory graphics card that communicates on a 256-bit interface, Dynamic Super Resolution (DSR) that allows to play older games at maximum settings. Gigabyte has done a marvelous job on making a quiet GTX970 card without buzzy coil whine issues. If you compare the benchmark points it easily beats 780Ti costing $150 less. So if you are looking to buy a reliable graphics engine for the heaviest computer games, then consider Gigabyte GTX 970 G1 is a powerful candidate for the job.
9) XFX AMD Radeon HD 5450 1GB GDDR3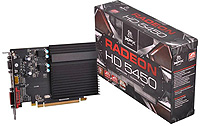 Probably the best budget graphics card that works flawless on begineer level personal computer. One gigabyte of dynamic video memory provides enough power to run games on dual monitor based multidisplay mode for gaming and productivity needs. Best suited for basic level graphics boost for your machine in a non-fancy and fanless design. So much fun in so much less! 1GB will let you play most of the game at good settings. HD 5450 is full game ready card by XFX which is a strong video card for average pc gamers. Definitely this is one of the best option for entry level gamers.
10) ASUS GTX760 OC 2GB GDDR5 DirectCU II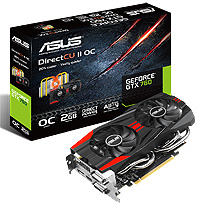 Powered by a 28nm GPU chip that gives steady visual backed by 2 GB of dynamic video storage. Asus has built this DirectCU II card in a futuristic design with innovative heat sink technology to keep your graphics engine cool in all PC conditions. GTX 760 is a full of flare packed in compact design but power-wise it is a monster. ASUS GTX 760 DirectCU II OC can easily be overclocked to give a boost of up to 10+ frames. At the end of the day, this is solid piece of game hardware that will not let your fail during a heavy game session. For a flawless max setting 60FPS performance gaming on Titanfall, Tomb Raiderm ETS 2. Finally its an ideal choice for running dual GPU SLI mode for quieter operation under full load.
This presented list of 10 qualified GPUs has been taken from Amazon website's best seller section on December 2014. With the passage of time the list of best selling graphics cards will change based on sales volume of GPUs available for sale on the website. Click the below "Buy Now" button to view amazon's current best seller list of top 10 graphics cards.