Razer Edge Pro Tablet VS Laptop For Gaming
Ultra Portability – Full Quality Gaming Going Handheld
Now a days Tablet is most popular device for computer user due to it's ultra portable nature. Most people prefer to have their own tablet instead of Laptop or desktop due to its small size and easy grip. This piece speaks specifically to reader who like to have tablet instead of laptop for playing video games. Since the launch of windows based powerful tablet devices such as Razer edge pro tablet, modern games are playable on new tablets. Lets have a look on some benefits about having windows tablet that can run latest computer games. This small portable computing device gives you full control of the screen, features and applications. Smooth touchscreen, by using your finger or a stylus, you can directly touch the screen to play games more interactively. Also provides a more tactile experience than mouse.
If you compare tablet to laptop computers. Former is small (mostly from 7 inch to a 10 inch display screen ) and not more than a pound in weight. One bad thing regarding tablets is that if its touchscreen is damaged, it will become useless. So, you should must buy protective case to protect its screen for long term and durable use. Now come to the point, why tablets are good for gaming sessions. You can play games where ever you want, just charge it to full and have fun with gaming  in home or while traveling. This multi-functional modern device is best for gaming, music and movies. Ideally suitable for running car racing, first person shooter games etc.  Another benefits of tablets over laptop are portability, next to ordinary computers, or laptops a tablet is lightweight and easy to carry around.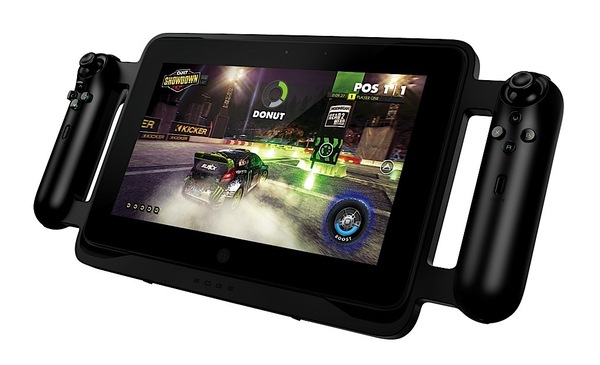 Edge Pro is a professionally built Windows gaming tablet for practically portable and ergonomic needs of players. Who needs a console or laptop? when a high end handheld gaming gadget is available that let's you play latest PC games on the go!
Razer Edge Pro Windows Gaming Tablet
Optimistic and quiet thought of gamer's about purchasing tablet is that they like to have their own high performance tablets for gaming. Because its provide you mostly all features which are necessary for gaming purpose. Another big reason behind its popularity is its small size and easy grip. Here we are going to describe review about windows operating system tablets which is specially design for gaming sessions. As we know Razer is the famous company which manufactures high quality gaming gears, peripherals like mouse, keyboard, speakers etc.  This company manufactures the first tablet which is specially design for gamer. It become popular for its good performance and high quality product. Here you are find features and specifications about some small machines design by Razer with there reviews.
The Most Powerful Tablet In The World With Controllers
Razer Edge Pro 128GB Tablet
Amazon Price: $899.99
Razer the most powerful tablet in the world is Edge Pro model, powered by Intel core processor and NVIDIA Geforce graphics with 10.1 inch high definition multi-touch display screen, and rugged high speed sate drive that screams incredible performance in a portable form-factor. Processor features in new Razer Edge pro are 3rd generation Intel core i7, ensuring your gaming and media playback run with the most powerful performance processing you will ever experience on tablets. Graphics card which is very important for gaming purpose is the latest NVDIA Geforce series which gives graphics with optimus technology, professional players can play games in the way they were meant to be played. Razer Edge Pro latest technology tablet can run all type of games, because its more than just a tablet, it has full-fledged mobile gaming PC, ready to play all of your favorite games and applications with heavy graphics. By having windows 8, you can have access to make largest library of games in your gaming world. This device allow you to connect with best selling applications, multimedia and websites like, Netflix, Facebook, Skype, Spotify etc. It means you can run all type of applications on it as this machine functioning PC which runs any windows 8 application. Good about this awesome small machine is the its not work just like a tablet, because its work in four different modes. Tablet mode, PC mode, Mobile Console Mode, Home Console Mode. Connect your desktop display with it and enjoy gaming on big screen. Now come to its technical specifications which are very important before buying any electronics device.
Edge Pro Tablet Specifications:
Processor
Intel Core I7, having Dual core processor with hyper-threading, CPU: 1.9GHz (Base) / 3.0GHz (Turbo).
Video
Intel HD4000 (DX11) ,NVIDIA GT 640M LE, (2GB DDR3, Optimus Technology).
Display
10.1″ (IPS, 1366×768),Multi-touch HD display
Memory
8GB DDR3 (2x4GB 1600MHz)
Network
Intel WLAN 802.11b/g/n + BT4
Storage 128GB SD with SATA III
Special Features
Codec support 7.1 Via HDMI
HD webcam 2 MP front facing
Array microphones
Dolby home theater v4
USB 3.0 x1
Stereo speakers
Audio jack (3.5mm, 4-pole, stereo out / mic in)
Gamepad Controller of Razer Edge Pro Design For Professional Gaming
Razer Edge Gamepad Controller
Amazon Price: $499.88
Gamepad controller for the Razer Edge Pro provides opportunity to use your tablet for professional gaming which allows for console style gaming having full PC game support, realistic vibration feedback and direct reflective acoustics. It gives features dual precision analog sticks and backlit D-pad and action buttons for accurate head-shot day or night. Extra time battery is there with this controller for long gaming sessions. You will really amaze by playing games on this Razer Edge pro tablet by using gamepad controller. Ergonomically designed to give gamer the ultimate comfort while professional gaming. Must buy it when you want to enjoy good gaming on Razer Edge Pro tablet.
Compatible PC Games For Razer Edge Pro
There are tons of PC games that are compatible with this windows tablet to give you an unforgettable handheld video gaming experience. Whether you like real time empire building strategy game, heavy graphics demanding vehicle driving or First person war based shooting, there is a game available to fulfil your needs.


Bioshock Infinite
Scribblenauts Unlimited
Civilization V
Tomb Raider
Need for Speed: Most Wanted
The Walking Dead
Borderlands 2
Assassin's Creed III
Dirt Showdown
and many more….