What Are The Latest Best Processors For Gaming PC?
The old days of core 2 duo, pentium 4, dual core and previous Amd cpu generation based computer processor are over. They are CPUs of the past! Now there is either Core-i series from Intel, or FX series and APUs from Amd and this is true for both laptop and desktop platforms. The PC processor under Intel Core-i series has gone through major transformation throughout the years. Uptil now they have gone through five major micro-architecture transitions. These five Core-i generations includes Nehalem, Sandy Bridge, Ivy Bridge, Haswell and Broadwell. If you are interested in knowing the best core-i7, core-i5 processors then visit best gaming processors reviews. Whereas AMD FX series moved from bulldozer architecture to piledriver. This page will showcase some of the coolest and worth owning CPUs for new system builds. These will help you choose the best processor for PC gaming and non-game computer assembly.
CPU is most important computer hardware part which should be given more attention while building a new computer. Selection from these ten processors will ensure reliability and productivity, though will work fine for playing computer games. However, you cannot rely entirely on Intel hd graphics or Amd builtin graphics. If you are into computer gaming, then you should consider best processor and then look for a reliable video card to process all your pc game graphics in an efficient manner.
In order to build a performance Game Machine you need to focus on best processor and graphics card. Either of them cannot be substitute of each other, each performs its duties. First you need a fast machine where your computer processor kicks in, then for fast gaming you need to pair in a powerful graphics card.
Top 10 Desktop Processors For New System Builds
CPU Rank – Processor Name – Model Number – Price
Intel Core i7-4790K 4.4 GHz – BX80646I74790K – $314.99
Intel Core i5-4690K 3.5 GHz – BX80646I54690K – $199.95
AMD FX-6300 3.5 GHz – FD6300WMHKBOX – $89.99
AMD FX-8350 4.0 GHz – FD8350FRHKBOX – $149.99
AMD FX-8320 3.5 GHz – FD8320FRHKBOX – $114.99
Intel Core i3-4150 3.5 GHz – BX80646I34150 – $99.99
AMD A8-6600K APU + Radeon HD 8570D – AD660KWOHLBOX – $79.99
Intel Core i7-5820K 3.3GHz – BX80648I75820K – $383.66
Intel core i5-4590 3.3 GHz – BX80646I54590 – $199.99
Intel Pentium Processor G3258 4 – BX80646G3258 – $69.99
Six of these best seller processor are from Intel which clearly speaks the minds of the consumers. 60% people are prefering intel CPUs for their PC setup, whereas 40% are Amd processors and APU. Intel core i7 and core i5 are strongest candidate if you looking into a gaming or productivity setup. These top 10 processors are collected from best seller page of amazon. For more information you can read full reviews of these amazon's best selling computer processors.
Best Amd Processor For Gaming Computer Setup
Top 5 AMD Gaming CPUs Suitable for Budget Game Machines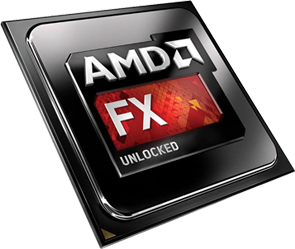 On the other hand, for budget oriented gamers AMD is most favorite CPU brand. Their logic is simple they provide similar speed and processing capabilities of that of Intel processor but in almost half the price. In reality gaming is no joke, you need to pour in serious cash in order to build a machine that performs. So Budget gamers are able to save some bucks by going for a AMD processor rather Intel's expensive alternative. Then use the saved cash in buying Amd graphics card, memory modules etc. This helps them to break the speed barrier within a set budget range and play their favorite computer games in efficient manner. FX-series is the most popular range of reliable Amd processors.
Top 5 AMD Processors
AMD FX-9590
AMD FX-9370
AMD FX-8350
AMD FX-8320
AMD FX-6300
Most gamers love AMD processor and graphics cards due to their economical price range. FX is currently the star processor costing almost half the price of an Intel variant. Though, Intel core-i7 performance is hard to beat but still they prove to be good substitute in building a budget game machine.
Who Should Install AMD APU in a Gaming Computer?
AMD introduced thier first APU under the Piledriver microarchitecture. APU performance was further enhanced with successor Steamroller and Excavator architectures. The concept of APU was to bring the processing capabilities of a computer processor and a graphics card on a single silicon chip.  So a single piece of hardware will cost less than two! So the APU initiative worked great and managed to deliver Ati GPU and CPU, costing less than $100 (AMD A8-6600K APU + Radeon HD 8570D). There are basically two benefits of going for APU: 1- saves money, 2- less cooling is required, 3- saves space in casing. A simple answer to the question of who should install Amd APU is following:
Anyone who is short on cash but seek an economical way to break into the world of PC gaming.

APU = CPU (Central Processing Unit) + GPU (Graphics Processing Unit)
Since APU is a new technology, lot of work needs to be done. AMD already perfected the technology by going through three generations of APUs (Piledriver, Steamroller and Excavator).  Future of Accelerated Processing Units is bright. We can anticipate highly powerful and efficient APU chips available for serious gaming in near future. A step towards the future is already been taken. Based on the revolutionary HSA (Heterogeneous System Architecture) that improves the processor design ensuring seamless working between the graphics and processing cores. However for the time being, most APUs are best suited for entry and mid-range gamers. If you are beginner level gamer, welcome to the world of gaming with AMD's low cost APU. While few APUs are good for mid to high end PC gaming, these includes the following models:
A10-7850K Kaveri 12 Compute Cores 4CPU+8GPU 3.7 Socket FM2+ AD785KXBJABOX – $138.89
AMD A8-7600 FM2+ 4MB Box R7 Series Graphics 3.8 4 Socket FM2+ AD7600YBJABOX – $88.24
AMD A10-7800 FM2+ Box R7 Series Graphics 3.9 4 Socket FM2+ AD7800YBJABOX – $134.99
A10-Series A10-7700K Kaveri 10 Compute Cores 4 CPU + 6 GPU AD770KXBJABOX – $117.99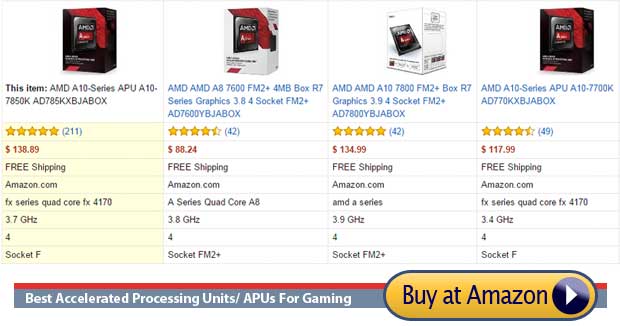 The latest in the APU series is the HSA based A10-7850K black edition. With an enormous up to 12 compute cores: 4 CPU and 8 GPU, they work together to give a steady gaming environment. The above mentioned models are highly recommended APUs if you seek high end gaming under budget. Future of APU is quiet bright with innovative architectures like HSA, more robust and performance oriented APUs will soon be available.