Reviews of Best Selling Microsoft Gaming Keyboards
Side-Winder series is among the most successful keyboards built for gamers. Microsoft has implemented innovative technology in developing these performance driven gaming accessory. Meanwhile, there are many other Microsoft keyboards doing a remarkable job in boosting your control during game sessions. One such model is Reclusa. When it comes to durability and reliability, then Microsoft is a trusted brand name in PC accessories. Microsoft hardware department is also working hard to deliver portable devices. These includes Bluetooth wireless, media travel and fold-able keyboards for your smartphone and tablet devices. These days style is everything, keeping it ergonomic and comfortable is Microsoft's first priority. Sculpt ergonomic desktop is a fine example of a reliable typing keyboard.
One of the oldest manufacturer of PC keyboards (since 1994). This has gone a major transformation through the years and now we see Microsoft producing keyboards for gaming, desktop and mobile use. From boring noisy and ugly looking large keyboards to stylish silent keyboards that provides a comfortable typing experience. Now-a-days SideWinder X4 is one of the best keyboard available for gaming.
SideWinder X4 Red Backlit Keyboard by Microsoft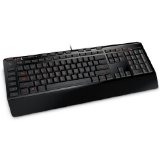 Microsoft SideWinder X4 Keyboard For Performance Gaming
Amazon Price: $179.00

Great for pairing with a red themed gaming setup. However there are three level of brightness available so you can adjust according to darkness in the environment. Not really a mechanical keyboard but used cleverly engineered membrane that mimic and gives a mechanical feeling. Elegant in design and works equally well for normal computing in parallel to gaming. An efficiently used 6 macro keys which can be used to store three stacks of profiles, so overall you can bank up to 18 individual game commands. However price wise it is bit example, though $150+ for just a keyboard is not an affordable PC accessory for most gamer class.
X4 is currently ranked as Microsoft's number 1 gaming keyboard in sidewinder series, though expensive but will prove deadly against your competition in PC games.
Microsoft SideWinder X6 Keyboard for Gaming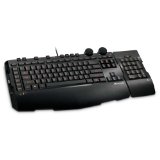 Microsoft Sidewinder X6 Keyboard with USB Port
Amazon Price: $59.38

Microsoft is also a major contributor in gaming gear manufacturing and X6 games keyboard is one of it's pioneering gaming product which has been in great demand due to it powerful features. X6 gaming keyboard has a switchable keypad, so you can switch between a keypad and a gaming macro pad and full controllable keys you can assign 90 macros easily. You can switch between two brightness levels of back-lighting modes for your keys. There is a special button that allow you to auto-hold up to 4 keys so you can play the game with cruise control feature.
Sidewinder X6 provides a dual mode, so you can switch between work and play modes with just one click of a button or by auto-loading saved profiles.
Microsoft Reclusa For Extreme Control.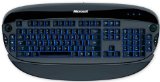 Microsoft Reclusa USB Backlit Gaming Keyboard – SPANISH LAYOUT
Amazon Price: $59.99

With this new Spanish layout Microsoft set a new design trend in top gaming keyboards which represents special Spanish characters and this is built especially for Spanish speaking users. These keys can be illuminated with a cool looking blue color, plus it has a programmable button feature that allows you to set up to 12 custom keys to interact with your game. A detachable wrist rest that help you to play computer games for several hours without having your hands getting tired. With a fast key response feature it makes your gaming performance more faster.
Reclusa is a ergonomic gamer keyboard, built for long hours of gameplay. Blue glowing keys, twelve macro read button and removable palm rest makes a big difference for pro gamers.