Reviews of Best Mad Catz Gaming Keyboards For Performance
The main company is Mad Catz whereas it is also popular due to its subsidiary company Saitek and a popular product series i.e Cyborg. However a new series has made a good market in recent years which is Strike. STRIKE gear is extremely popular among gamers due to detachable keyboard with other amazing features. Mad Catz popular RAT mouse series has been a superb hit and still considered the best gaming mouse ever crafted in the industry. As a second step Mad catz works extremely hard to deliver high performance game keyboards. Strike and Cyborg are two cool keyboard series that are proud creations of Mad catz. Strike is currently the most wished for gamer keyboard and a super hot peripheral for PC gaming.
Mad Catz STRIKE 7 Gaming Keyboard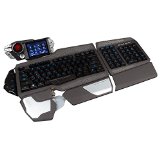 Strike 7 a Fully Detachable Highly Advanced Keyboard by Mad Catz
Amazon Price: $252.33

Strike 7 is one of the most advanced gaming gadget available in the market today. Maintaining your focus on the game requires attention to all aspects of the game. A full commitment to game is essential to success and no time should be wasted in finding key or setting up peripherals. Equipped with so many features including: Full backlit keyboard with color of your choice with great illumination in dark. Detach and organize the components to match your gaming style.Venom touchscreen for advance macro control and game tactical data. Comfortable palm rest with easy height adjustment and detachment. In short Mad Catz Strike 7 works like a puzzle that your can arrange according to your custom gaming setup. S.T.R.I.K.E 7 is a totally unique keyboard that will give you a competitive edge during a game session. Whatever game genre (FPS, RPG, MMO, MOBA, RTS) you choose, performance is guaranteed.
Cyborg Three Color Backlighting Keyboard.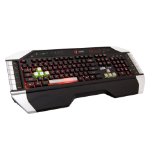 Cyborg V7 Gaming Best Keyboard with Tri-Color
Amazon Price: $73.99

Cyborg V7 is a cool looking gaming grade keyboard in black and silver colors which is cool attractive and unique in design with tri-color keys controllable feature. One of the most powerful keyboard that you can find in the market with custom features which are fully control-able by the user. Enable Cyborg mode to disable windows shortcut keys that could interface during a gameplay. Whereas the powerful software by Saitek enable easy customization of the keys illumination. Offers a three color back-lighting feature so that you can choose what color to assign to which key and make the key identification process more easier for the end users. The laser printed key labels are easy to read whereas key pressing mimics a mechanical keyboard. Pluses includes multiple color key illumination, macro keys, usb and audio ports.
Saitek Eclipse II Backlit Keyboard.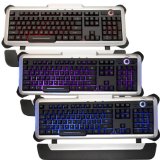 Saitek Eclipse II Illuminated Keyboard
Amazon Price: $68.95

Saitek manufactures high tech gaming equipment to meet serious gaming needs and their new product Eclipse II keyboard is an excellent choice for gamers because it offers three colors for key backlighting, you can choose red, blue or purple for any key you want to assign. This keyboard has a silver and black body with a comfortable and adjustable wrist rest section as well as usb extensions and audio ports for easy device connectivity. Custom set the keys to glow in three distinct colors i.e; red, blue and purple. Whereas the brightness of the key illumination can also be controlled to your satisfaction level. For added comfort the wrist rest is expandable.
Saitek Eclipse Backlit Keyboard – Red LED.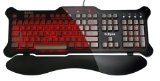 Saitek Eclipse Backlit Keyboard – Red LED ( PZ30AUR )
Amazon Price: $219.99

Another powerful gaming keyboard by Saitek that has the most demanding back-light colors that every gamer love to use, that's right it is red color which is one of the best colors to grab user attention and makes finding a key even more faster. Apart from the corners and the palm rest, it looks just like ordinary keyboard but this is smarter version that provides comfortable typing environment. This keyboard has three levels of light: full light, low or dim light or turn off light, and yes you can adjust of each key as you wish. Extremely comfortable wrist rest in a zero slope design. USB and audio ports for maximum gaming gear extension flexibility.
Cyborg and Strike  are two of the most trustworthy keyboards for gaming purpose. Whereas Saitek built highly durable and hyper responsive Eclipse keyboards for efficient and long hours gaming needs. You can simply rely on Mad Catz keyboards and mouse for reliable game performance.