Best Computer Speakers for Entertainment Needs
Nearly all PC users seek best computer speakers with high quality sound experience for their entertainment needs which becomes even more important for playing computer games and watching bluray movies. Headphones are great way to enjoy high volume audio without disturbing other people in your surroundings. However, when you need a speaker for all listeners in scenarios such as watching movies, voice chatting on skype, playing video games on large monitor or tv screen, so why limit the sound? Plug in speakers and let the music fly out in your environment. Secondly, the technology is far more advance in the external speaker systems than a head mounted in-ear or over-ear headphones. In the later section we will provide reviews of the top computer speakers that are best suited for everyday desktop computer audio needs. Plus reviews of five portable speakers that delivers flawless audio performance for laptops and macbooks.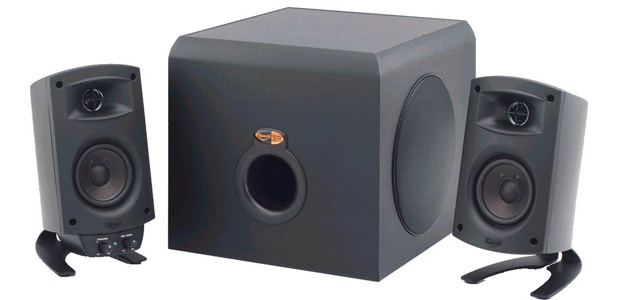 A real home theater experience can only be achieved by using surround sound speaker systems with vibrating beats, which are combination of programmed frequencies causing loud and soft variation of sound waves. Whereas for basic PC usage, simple satellite / bookshelf speakers are good enough for a medium size room. The top 10 PC speakers list will help you choose the right externally connected speaker for you desktop or laptop audio production. Owning a multi-purpose speaker system will ensure connectivity with more than a personal computer and you can enjoy audio from your mp3 players, smartphones etc.
Best PC Speakers for Music & Video Game Audio Output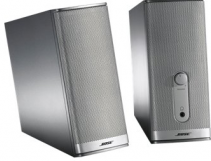 A good computer speaker will ensure you break the barriers that are restricting the sound quality that you deserve to hear. You can use ordinary PC speakers for voice chatting, notifications from programs etc but for music, video games and watching movies calls from a better audio output device. There are many speaker manufacturers who make high performance PC speaker system for enjoying true to reality sound experience. These brands includes Logitech, Creative, Bose, Altec Lansing, Sony and so on. For basic computer audio you only need stereo speakers but if you demand better sound for playing video games and entertainment then you can choose a surround sound system.
Stereo Vs Surround Sound Environments
How Surround Sound for Computer Audio Output is better than Stereo?
Most of the users use stereo speakers for listening to music from your computer or music player such as iPod and even while watching movies on TV. so what's the difference between stereo and surround? Well let me make it simple, surround sound comes when you have more than two speaker satellite units place in all corners of your room, this ensures you listening to sound coming from all angles, leaving you with more realistic feeling of the audio. Secondly they include subwoofer that produces low depth and bass Listening music in a car can be stereo or surround, but most cases it is surround sound. You must had noticed that when you watch a movie with surround sound, you feel like it is real sound and you feeling it from all angles. The barking dogs in the right image explains the story, ya you are the little cat! 5.1, 7.1 speaker system means surround sound environment based on five and seven speaker units respectively. 2.1 is also surround sound where we have two satellite speaker units and one subwoofer, so basically this is three device setup to produce surround sound.
So what's the main different between stereo and surround sound?

Stereo is for enjoyment, built on two speaker units
Surround is for feeling the sound coming alive, more than 2 speakers
Top 10 Desktop Computer Speakers Reviews
Reviews of The Best Performance Speaker Systems
After a detailed research we compiled the following list which is based on numerous factors: sound quality, overall look and feel of the speaker system, sales volume, customer reviews, price, best sellers, positive rating from buyers (5 star rating) and so on. Following ten speaker auditions will help you select an efficient audio device for your computer.
From an affordability point of view, most of these top ten computer speakers cost less than $100, few are under $50, whereas one touching a five hundred mark. Personal computer users can select an audio device according to his/ her  allocated budget range.
1) Sony SRS-A3 External Compact 2.0 Channel PC Speakers – $27.50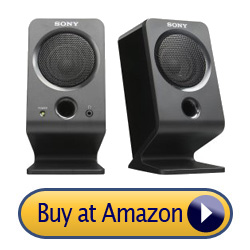 These are great in terms of price, portability and sound quality for mid-range audio output. Sony SRS speakers are simple to place in your bookshelf, over/under the computer desk. The bass-reflex layout offers resonating bass & rich sound. Extended connectivity to ipod, iPhone, Android phones. The unique tilt 15-degree upward design throws sound to make more natural listening experience. Powered with a digital amplifier that provides better efficiency than analog: consumes less power and generate low heat.
These small 2.0 channel 5-watt speakers will prove good companion for your desktop and laptop audio expansion needs.
2) JBL Duet III Premium PC Speaker System in Black & Silver – $99.99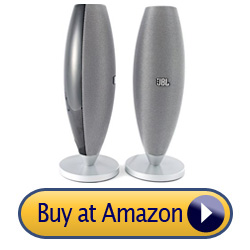 Duet 3 delivers outstanding sound powered by a 10 watt amplifier for louder audio & minor distortion. Unique layout in gray, black and white colors whereas lightweight satellite are easily portable. Duet III are very attractive JBL audio speakers that works for both desktop & laptop, plus great pairing with iMac. These nifty audio devices comes in silver and high glass blank finish. The Knob on top of left speaker can be rotated to control volume. Good bass better than duet II gives clear and decent sound.
 Cnet duet 3 review has given it 7 out of 10 rating: 8/10 for design, 6/10 for speaker features and 7/10 for audio performance.
3) Bose Companion 2 Series II Multimedia Speaker System – $85.00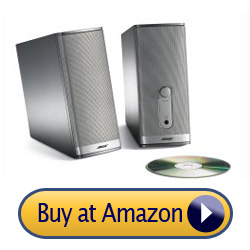 This is a perfect 2-piece multimedia speaker for PC that comes in a compact size and elegant design with a nice silver or gray touch. These can be placed in small areas nearby your desktop computer. These small size satellite speakers are great for movies sound and listening music. Though not easily portable however, you can use them with laptops while on your study / work desk. Standard 3.5mm jack is provided next to volume controller to help you expand your audio to headphones with ease.
Bose produces highly reliable audio devices. Companion 2 is a powerful speaker set good enough for handling all your PC multimedia sound needs.
4) Logitech Z-2300 THX-Certified 2.1 Speaker with Subwoofer – $499.00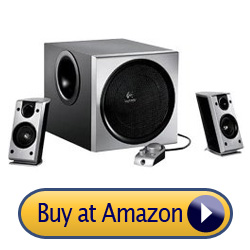 Best selling Logitech THX-certified speaker system in silver color for desktop computers. In addition to 2.1 multimedia sound, a dedicated subwoofer and wired remote control makes it a true winner for PC audio output. Z2300 is a quality sound system that gives you freedom to experience surround sound with realistic audio output. The world's leading THX certified audio deliver crisp and clean sound, that will let you hear from dropping of tiny needle to glass shattering explosions.
A wise investment that will bear fruits for years to come, since consumer reviews says Z-2300 are durable & last long without any performance flaws.
5) Klipsch ProMedia 2.1 Computer Speaker System  – $149.99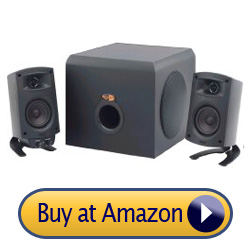 Klipsch Pro-media 2.1 are excellent trio desktop speaker with superior subwoofer, provides deep lows & great bass. Flexible connectivity with other audio sources. Discounted 2.1 speaker system without compromise on sound quality. Cutting edge micro tractrix noise filtering technology deliver crisp & clear audio to help detect slight enemy movements during game sessions. Beginner level audiophiles can get this entry level audiophile speaker for sound recording and production needs.
Klipsch is among top 10 audiophile speaker makers for high fidelity sound reproduction. Refer to full list of audiophile brands in the last section.
6) Logitech Z320 Compact and Lightweight Satellite Speakers – $129.99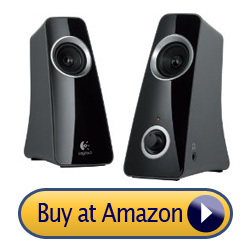 Stylish speakers in compact design that  produce omni-directional sound. Each unit has dual sound driver on front as well as back, throwing sound in forward and backward direction. Only downside is that these are not portable and should be mounted on your computer desk or bookshelf. Futurist out of this world ufo satellite design in black glassy finish. Z320 can reproduce enough sound for most audio needs. For most computer users these will just do fine unless you have higher sound requirements.
These are great set of classy looking 2.1 speakers to use with your desktop computer to deliver 360-degree sound.
7) Creative Inspire T12 2.0 Multimedia Speakers with Bass Flex – $51.99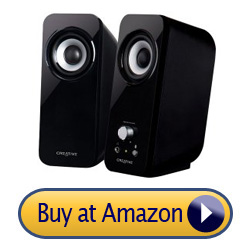 Inspire T-12 is the latest multimedia speaker from Creative labs. Utilizing bass flex for reproduction of mind blowing bass for all sort of entertainment programs. Design is just right for a desktop computer not that big or small to cause handling issues but still not good substitute of portable devices. Creative has done a splendid job in reproducing instrumental music such as guitar and piano, offers natural acoustic listening experience. Overall produces great sound in a small package.
T12 nicely amplifies music to pleasure your ears, whether you like country, classical, rap, hip hop or jazz etc, creative sound system will do magic.
8) Altec Lansing VS2621 Speakers Set With Sub-woofer – $99.99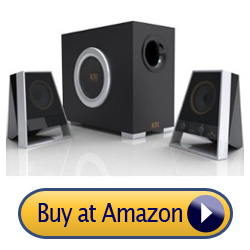 Probably the cheapest PC speakers from Altec Lansing which is famous for manufacturing high performance audio equipment for home entertainment. Great sound station for enjoying music from your computer, smartphone or mp3 player. According to audiophile reviews they produce brilliant sound sufficient performance enough to get noticed by your neighbors. Impressive woofer that does not trembles or break audio quality on higher volumes, result is very clear and crisp sound.
Gives the best value for money, since in our collection VS25621 are the only true 2.1 channel audio system that are costing less than hundred bucks.
9) Hercules XPS 2.0 60 Speaker Kit for Music & Gaming – $109.99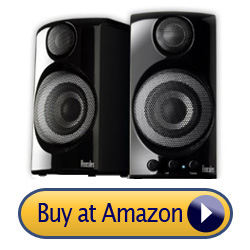 Appearance-wise these are great looking computer speakers with shiny smooth surface. Quality wise delivers 2.0 multimedia audio output, good enough to satisfy your PC audio needs. Front has an elegant aesthetically pleasing paino black glossy plastic surface. Each wooden satellite unit has an acoustic design based tweeter system with silk dome and broadband driver. Solid bass can easily fill up an entire standard living room with rhythms that boast clear mids and highs.
XPS 2.0 60s are nice looking set of Hi-Fi PC speakers that renders room-filling crisp & clear acoustic sound with solid bass.
10) Pioneer S-MM301 USB Powered Computer Speakers – $48.99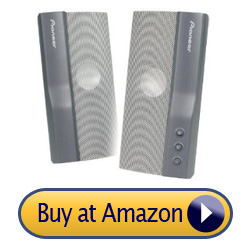 Unique styled two-piece PC speakers which are powered through your computers USB port. Simply hook up the usb cable and you can feel the sound flying out of your computer into the air. USB connectivity makes them suitable for use with both desktop and laptop platforms. Size wise they are not larger than average smartphone. Great supplement to your computer's internal speakers. Tri-coil based aluminium drivers produce satisfying sound for almost all routine audio tasks.
Pioneer S-MM301 is great usb speaker kit costing less than fifty dollars. Their sleek and compact design makes them somewhat portable.
Top 5 Portable Speakers For Laptops & Macbooks
Best Portable Notebook Speakers in Mini & Compact Design
With an ever growing demand of notebooks, the need of prtoable laptop speakers is growing fast. This urges the manufacturer to come up with unique concepts in stylish and lightweight speaker design but reliable sound for all your computer entertainment needs. A handy portable addition for your notebook will ensure that you do not feel a need of using your desktop for listening to music, playing games or similar entertainment needs. The compact size and lightweight design will ensure you can carry mini speakers with your laptop and listen to sound whenever and wherever you want. Most of the laptop speakers are ultra-portable, easily place-able in your laptop bag, backpack or school bag.
5 Best Notebook Speakers For Computer Audio Expansion

1) GOgroove Clip On Soundbar Portable USB Powered Laptop Speaker

Amplify all your macbook and notebook audio with GOgroove sonawave USB clip speakers. This unique sound bar rest on top of your laptop monitor with the help of two dual spring clips.

2) Logitech USB Laptop Speaker Z305 Portable HiFi Audio Stick

Thin and sleek audio stick for notebook sound expansion. Small package but right amount of fire power. Rod like structure makes it easy to fit in tights spaces of your notebook carrying bag.

3) Logitech Stereo Speakers Z120, USB Powered (980-000524)

Black and white small stereo speakers to let you work and play with quality sound output. These lightweight stylish notebook speakers represent futuristic design with powerful sound.

4) Logitech Wireless Speaker Z515 Bluetooth & USB Connections

An elegant looking portable soundbar with dual speakers for reliable computer audio. Rechargeable battery make it a true portable speaker. Cnet review has give Z515 7.3 score out of 10.

5) ARCTIC S111 Compact Stereo Speakers Balanced Treble / Superior Bass

Cube shaped mini travel speakers that reproduce good sound to let you enjoy PC audio on the go. Audio reproduction is suffice for music aficionados. Super easy to carry in laptop backpack.

There are many reviews of portable mini notebook speakers available at our best speakers for laptops and macbooks collection page. These includes Apple Macbook speakers, mini external stereo, single unit wireless speaker bars, boombox bars, mini capsule units, animal and technology inspired portable speakers etc.
What Are 10 Best Audiophile Speaker Brands For HiFi Audio?
If you are really serious about sound quality and want to go one step further into quality audio environment, then go for Audiophile speakers instead. For Audiophiles seeking devices for high-fidelity sound production and recording. Following are the top 10 speaker manufacturing companies that are best suited for Audiophiles :
Bose
Harman International
Definitive Technology
Polk
Paradigm
Bowers & Wilkins
Kef
Martin Logan
Klipsch
Dynaudio
Speakers from these 10 best name brand audiophile speaker companies ensure reproduction and recording of high performance audio (HiFi) with utmost satisfaction of audiophiles.